• PA system. Compact & scalable, it can handle small rooms up to good sized halls

o  Solo
o Bose system 1 (serves as a small PA or Monitor)
o Drum & bass tracks for 125 covers, 22 originals (roughly 12 sets)
o Portable computer (Macintosh Laptop)
   o Large MP3 selection for DJ- style music
o  Trio and Duo
o 10 channel Benhringer mixer/ amp with effects.  800 W per channel, 2 channels
o 2 x 10 Carvin Q10 Main/ Monitor Speakers
o  6 Channel Carvin X600L mixer/ amp with effects. 250 W per channel, 2 channels
   o 2 x 12 Yamaha SP12 Main/ Monitor speakers
• Instruments/ Effects. Top quality equipment allows the wide variety of sounds needed for the broad range of songs I play.
   o Shure SM 68B or head-worn vocal microphone
   o Fender Stratocaster guitars
   o Taylor T5z Acoustic/Electric Guitar
   o Digitech GNX 3000 Guitar Effects Processor
   o Boss RC-2, RC-3/ Jamman Samplers for both guitar and vocals (allowing harmonies with 1 singer!)
   o Digitech Vocal 300 Vocal Effects Processor
• Visual Effects.  Ignored by many musicians, lights are important to set the mood.
  o 2 American DJ MegaBar RGB LED light strips
   o LED "Moonflower" projector
   o 2 Red+Green LED Laser projectors
   o 4 x 100W equivalent color LED flood lights ideal for small to medium sized facilities
   o 3 light stands and clamp-on light fixtures ideally suited for taking up minimal space at small events
   o 2 large stage light stands with bars and stage truss for a full, professional stage set up.
   o Quad chaser/ sound-to-light unit
   o Fog machine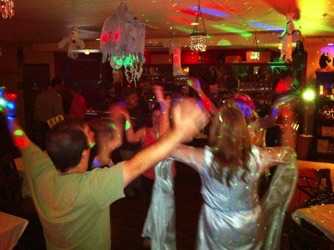 Wolff uses a flexible yet compact set-up that can scale from a portable, battery powered "band in a bag" up to a full PA for a medium-sized hall or outdoor venue. We use LED lights (low power, low heat), including lasers & a Moonflower projector, which can all run off one 110 V outlet.